Pavement signs are the best way to attract customers off the street, but their effectiveness is determined by ad size and messaging quality.
The right pavement sign makes all the difference, making your advertising stand out while letting you swap out media with minimal effort.
In this complete guide to pavement signs, we cover everything you need to know, helping you buy the right signs to inject life into your business.
Let's jump in!
Why are pavement signs so good for advertising?
There are many ways to advertise a brick-and-mortar business, but pavement signs are one of the best.
Pavement signs pull people off the street because they establish value and relevancy, forming a connection with customers. People who would otherwise walk on by have a genuine reason to pop in and take a look.
Another benefit is the fact that a pavement sign interrupts passers-by. They can't ignore a sign that's right in their field of vision when walking past your shop.
However, the most powerful aspect of pavement signs is the ability to switch out media quickly, letting you change things. Studies show that the effectiveness of signs reduces over time as people become used to them.
The ability to freshen things up, plus the portable nature of pavement signs, means you can adapt your adverts for maximum impact.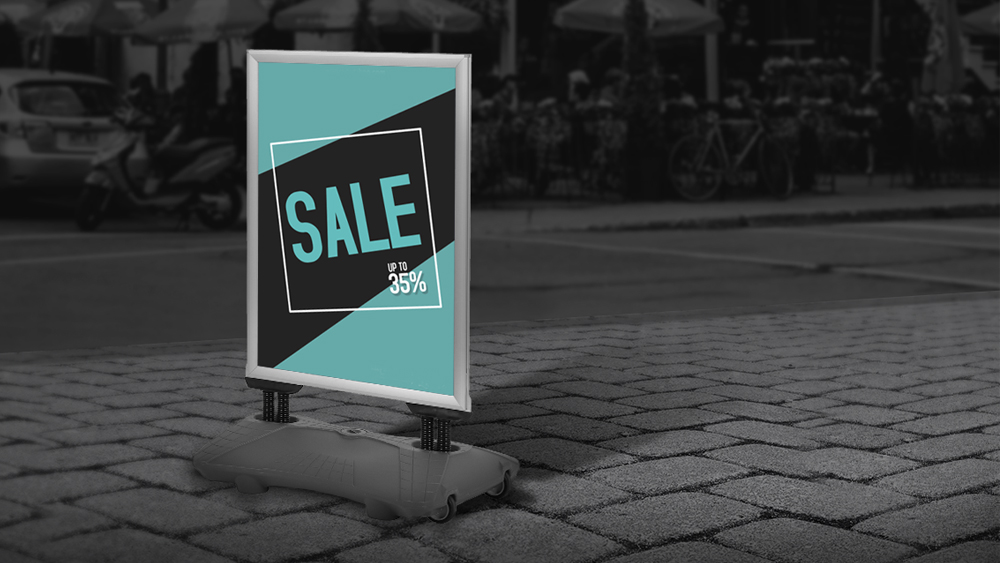 The different types of pavement signs
Pavement signs are available as standard A-frames, with a water base, or with a flat water base (also known as a forecourt sign):
1. A-frame pavement signs
A-frame signs are double-sided, with a hinge propping the sign on four legs. The key advantage of A-frames is they fold flat, making them easy to store anywhere. However, they are less robust than water-filled bases.
2. Water base pavement signs
Water base pavement signs have a base you can fill with water orsand + water (sand increases the weight even further). These have better wind resistance than A-frames but are less portable and stored upright.
3. Forecourt signs
Forecourt signs have a flat water/sand fillable base with a single flexible hinge versus the dual flexible sign of water base signs. The flat base is designed to sit flush against a building to free up floor space for foot traffic.
4. Swinging pavement signs
Swinging pavement signs are a category of suspended pavement signs with a flexible hinge that lets the sign swing in the wind, making them suitable for windy conditions. These offer fantastic visual impact with large media.
Most high street traders do best with water-filled pavement signs because they suit all weather conditions.
Pavement sign sizes
Most pavement signs are available in sizes A0 to B1 – these take standard media such as printed posters and advertisements. You can also get tall A-frames, which take media up to 60" in length or more, depending on the product.
To specify the right pavement sign size, match it to your media size. If you don't have any media yet, we recommend visiting your preferred print shop to look at sizes so that you can figure out the best size for your store.
Most shops have A1 pavement signs because these are small enough for most pathways but big enough to grab people's attention.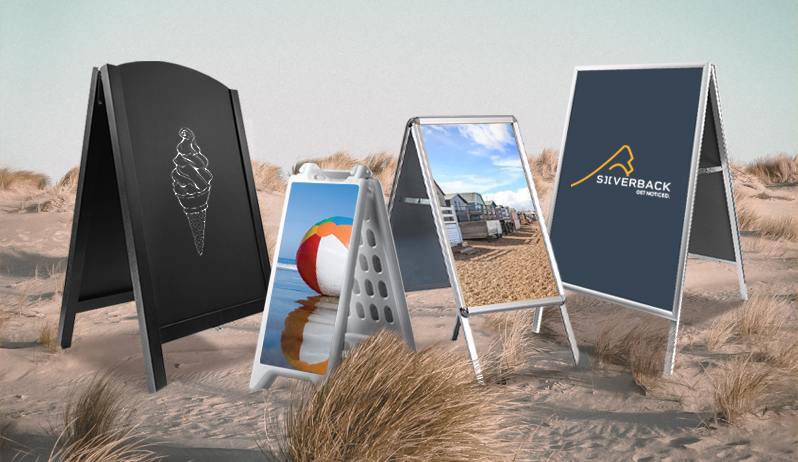 Pavement sign materials and construction
Most pavement signs are made from high-impact plastic (such as ABS or HDPE) and aluminium with steel screws.
Aluminium A-frames are a popular option because aluminium is robust and 100% recyclable at the end of its life. The only plastic on an aluminium A-frame is the acrylic poster protector and the adjustable feet (where applicable).
Water base pavement signs are made from plastic and aluminium, with the base usually made from HDPE (high-density polyethene). HDPE is fully recyclable and UV resistant, so it is the best plastic option for longevity.
How to use a pavement sign
Pavement signs are easy to use – insert your media and stick them outside!
However, your signs might have a few other nuances:
A-frames – these might need assembly before use, and you'll get an assembly kit if so. The frame uses pressure to hold the poster in place, so all you do is open the frame, slide in the poster, and lock the frame in place.
Water base pavement signs – water base pavement signs come as either a single unit or you clip the frame into the base. Fill the base with water until it reaches the brim, then seal it. If you are using sand, pour this in dry.
Because pavement signs take up space on the pavement, it's also worth putting high-visibility tape on the top edge of the frame to warn people about the sign. This will protect you should someone walk into it and hurt themselves.
Am I allowed to put a pavement sign on the pavement?
Unfortunately, if you don't own the pavement outside your shop, you are at the mercy of your local council as to whether you can put a sign on it.
It would be best if you asked your council before doing it. Otherwise, you could get a letter through the door telling you to remove it. The safety of your sign and whether it inconveniences people are the biggest deciders in council decisions.
Most of the time, putting a pavement sign outside a shop is fine, but some councils restrict what you can put on them.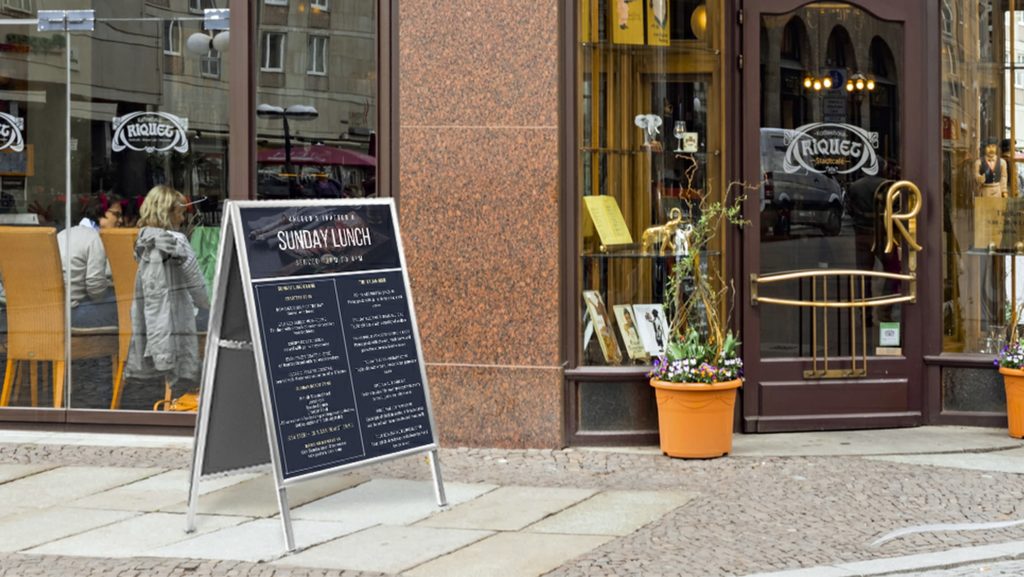 Where can I buy good-quality pavement signs?
Silverback has the best collection of pavement signs. We design our pavement signs ourselves and are committed to using recyclable materials, with single-use plastics and hard-to-recycle materials our last option.
Our product range includes aluminium A-frames, black A-frames, A-frame chalkboards, water base pavement signs and swinging pavement signs. We have competitive prices and offer free next-day delivery when you order before 5 pm.
If you can't find what you're looking for, we're here to help – give us a call to discuss pavement signs and other point-of-sale displays. We stock high-quality products for outdoor and indoor use that last many years.