A snap frame is a poster frame that snaps shut with spring hinges. When the hinges are closed, the poster is held in place with pressure and a cover. The poster can quickly be taken out by lifting the hinges into a vertical position.
Clip frames are an alternative to slide-in poster frames (frames that open from the top, allowing a poster to be slid in) and screw-down frames.
Depending on the construction, you can use snap frames indoors or outdoors. Outdoor snap frames are weather-sealed to prevent water ingress.
Types of snap frames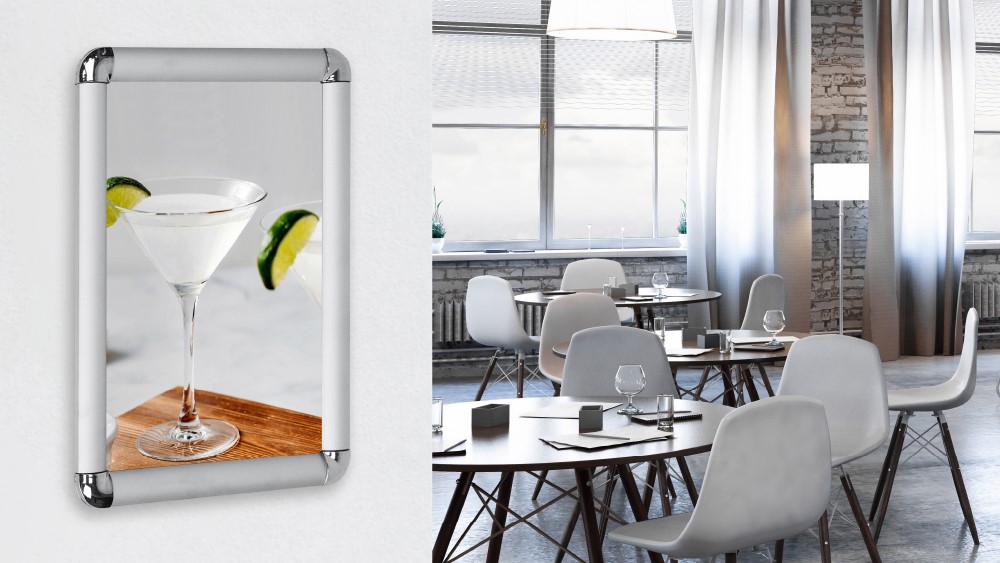 There are five main types of snap frames:
Mitred snap frames
Mitred snap frames have mitred corners (formed by joining two materials together cut at a 45° angle to form a 90° square corner). These are the most popular of snap frames
Round corner clip frames
Round corner snap frames have rounded corners, which are safer in public areas. Rounded corners are formed from the radius of a 90° corner.
Lockable poster frames
Lockable snap frames have a concealed lock to stop people from opening the hinges. A key locks the hinges into place, so they can't be opened.
Tamper resist snap frames
Tamper resist snap frames have an upgraded lock that requires a special lever tool to open. Otherwise, the frame is very difficult to open.
Weatherproof snap frames
Weatherproof snap frames are weather-sealed with rubber weathering strips and tightly connected parts for use outdoors.
How to mount a snap frame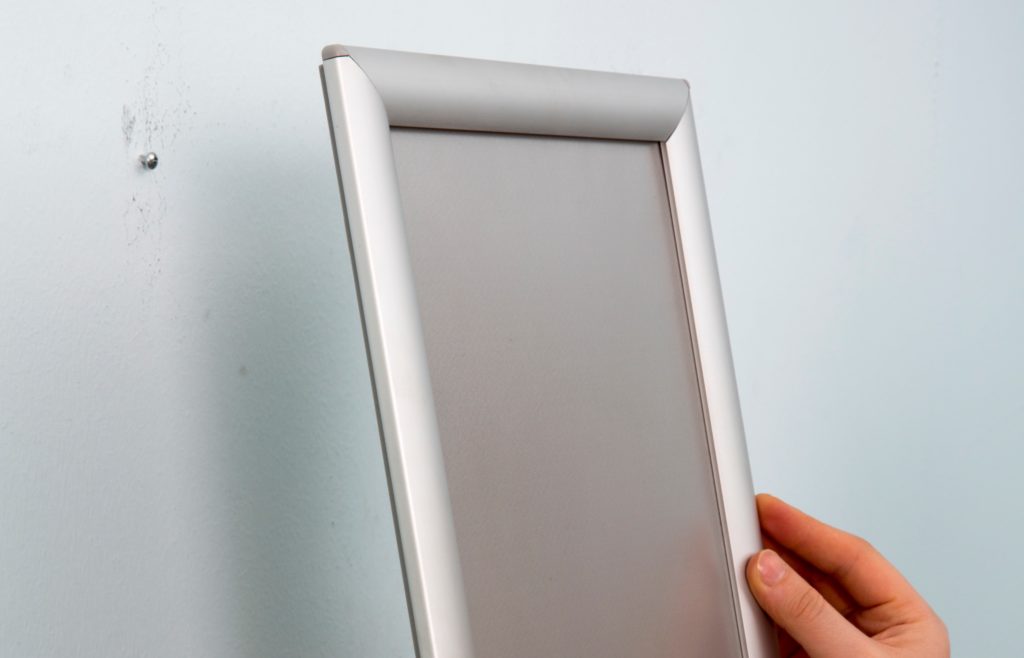 Snap frames come pre-built, so all you need to do is mount them. You should also receive a wall mounting kit with screws.
To mount your snap frame with screws, follow these steps:
Snap open the snap hinges
Use a level to line up the frame on the wall
Once level, use a pencil to mark the drill holes
Take a hand drill and drill the pencil marks
Place the wall plugs (supplied with your kit) in the holes
Align the snap frame with the wall anchors
Use your hand drill to fasten the screws
To mount your snap frame with double-sided tape, follow these steps:
Snap open the snap hinges
Use a level to line up the frame on the wall
Once level, use a pencil to mark where the frame will go
Install double-side sticky tape to all sides of the frame that touch the wall
Line up your frame with the pencil marks and press down firmly to stick it
What are snap frames made of?
Snap frames are made from aluminium, but not all are created equal. Some snap frames have flimsy aluminium and hinges that snap shut dangerously. It's best to use a reputable retailer when buying snap frames.
Here's what a snap frame is made from:
Aluminium frame
PET poster cover
Styrene back panel
With weatherproof frames, rubber weather seals are also used. The frame is sealed around all edges, or in cheap frames, only at the top.
What will my snap frame come with?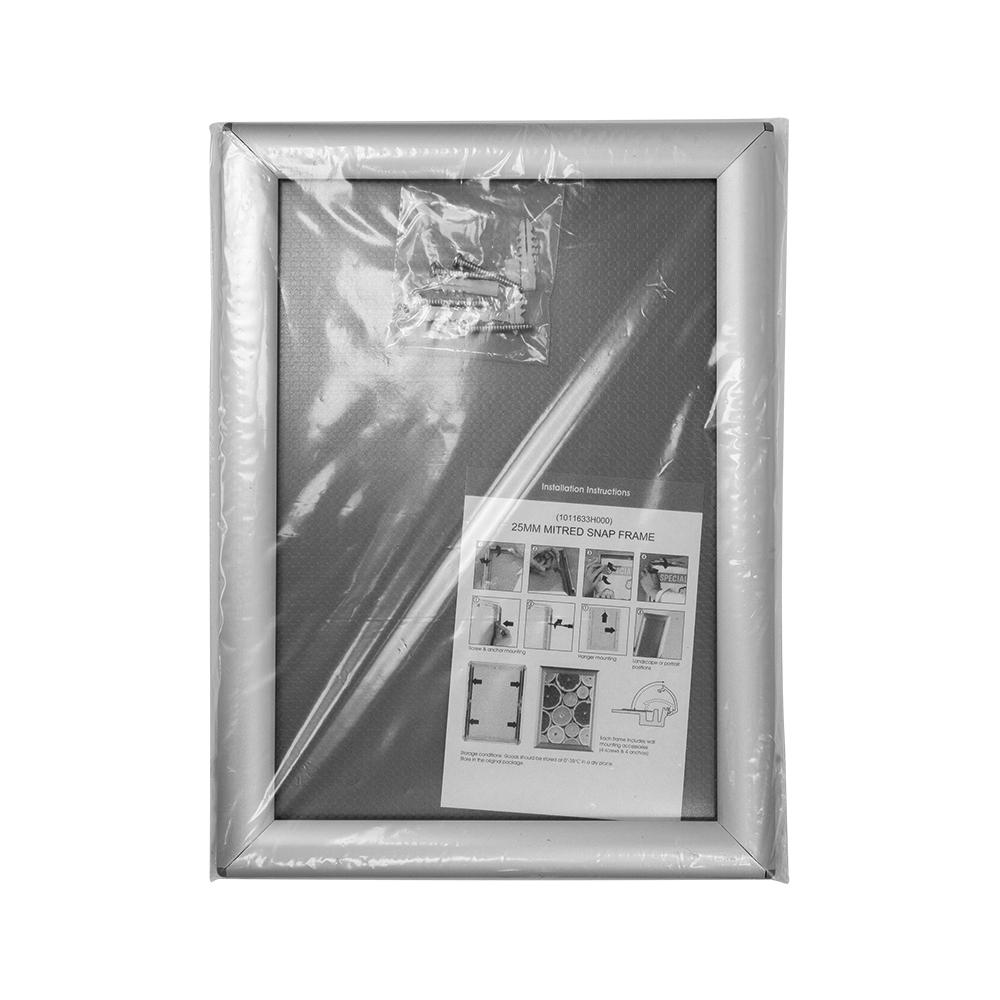 Your snap frame will come with a wall-mounting kit. Most snap frames have a screw mounting kit. Double-sided tape is more of a DIY product than a professional one, so we recommend sticking to screws for business use.
All our snap frames come with the following items:
Instructions
Poster cover
Screws
Screw plugs
What is a profile?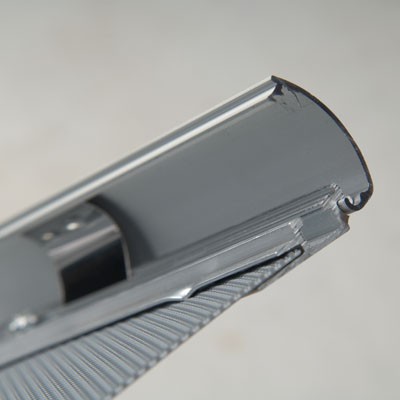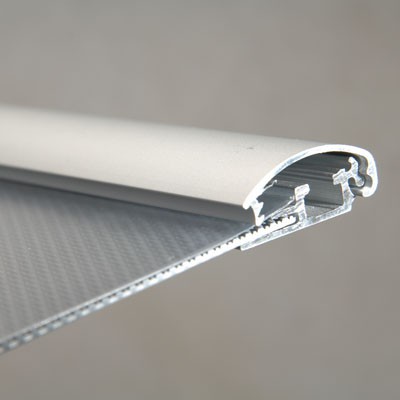 On a snap frame, the profile refers to the thickness of the moulding around the poster. For example, a 25mm profile means the frame around the poster is 25mm thick, and a 32mm means the frame around the poster is 32mm thick.
Can I put a board in my snap frame?
Our snap frames are designed for poster weights up to 400gsm, a premium weight that's sturdy and robust. Poster weights thicker than 400gsm stop the snap hinges from closing properly, compromising the look of your presentation.
Are snap frames weather-resistant?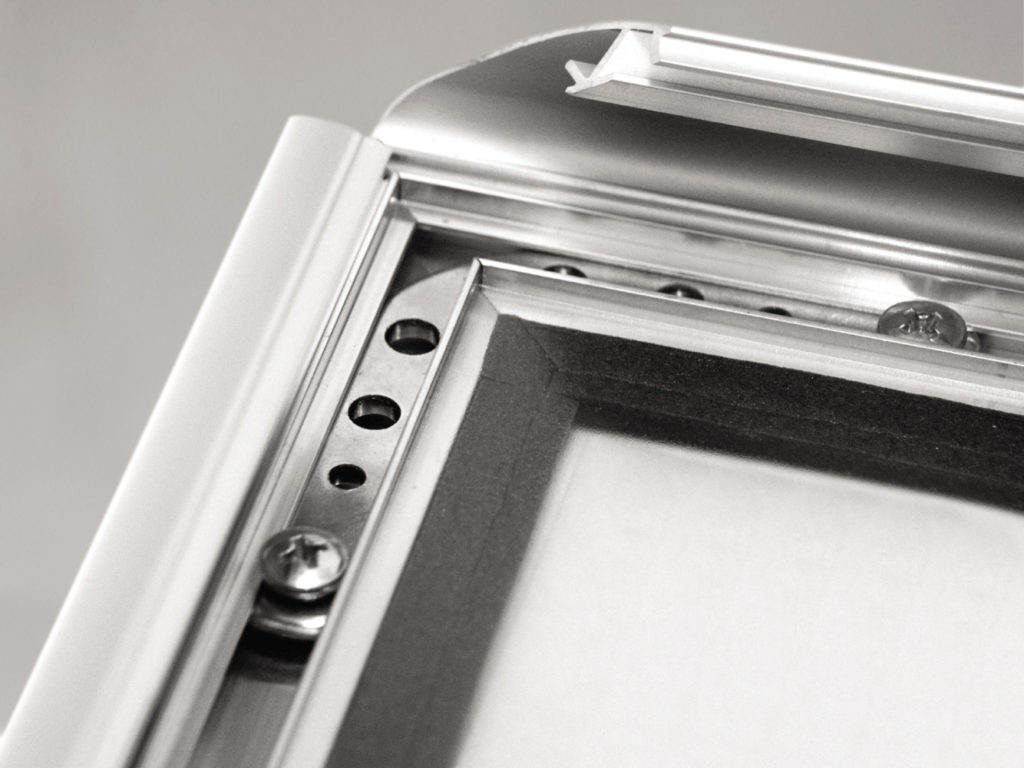 Only snap frames designated for outdoor use are weather-resistant. Weather-resistant snap frames have a weather seal around the poster (known as a wick). The seal offers protection from the elements but isn't completely impenetrable.
Providing you use an outdoor snap frame, you should have no problems with water. Also, aluminium does not rust, so the frame won't degrade.
Do I have to buy a frame in a standard size?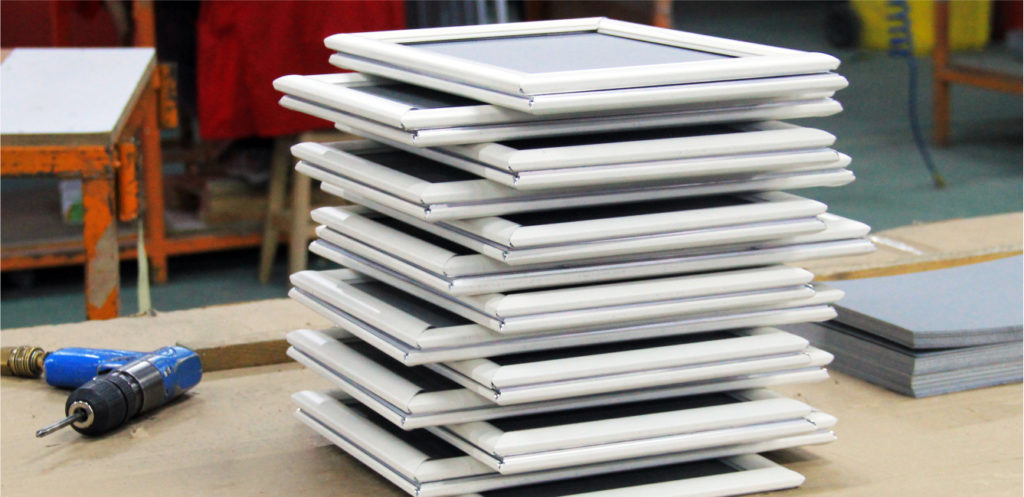 No you don't. Snap Frames can be made to any size or colour you require, however the unit cost is typically a lot higher than purchasing standard stock sizes. Our range has been developed so that you should rarely have to create a frame to a bespoke size, with snap frames available from A5 to A0.